Age

35
About bill-jenny
Gender:

Female
Branch:

Army
Status:

Spouse
Parent:

Not yet, but hopefully some day
Current Location/ Duty Station:

Fort Lewis, staying in MI until the baby comes
How I Met My Military Significant Other:

Bill and I met in middle school. I had a crush on him from the day I met him. He is a great man. We were friends for quite some time before we started dating. When we had both just gotten out of relationships we tried to date. It was a disaster and we both knew it. We remained friends and a year later tried it again. With in just a few short months we were living together and with-in 6 months engaged. I love this man with all my heart!!
About Me:

My name is Jennifer and I am quite new to the Army. My husband just finished up AIT as an Honor Grad back in June of 07. HOOAH!! We just moved out to washington in August and he is already deployed. Both my husband and I have roots within the military. His Brother in-law is in the Army. His Aunt just retired from the Army and two of his uncle's retired from the marines. One of my Aunts and her husband both retired from the Marines. I have a cousin in the navy and we both have several friends serving in various branches of the military. We did not enter into this family lightly. We are both proud to serve!
About Us:

We spend all our time together when he is home. There are very few instances where he'll want to go somewhere without me or I'll want to go somewhere without him. I realize we are still newlyweds and this may change but he is my best friend and I am glad it is the way that it is..
Interests & Hobbies:

Anything Artistic. I love to be creative!!
Dream Sheet:

We are both still young and would love to see the world. Bill plans on making this our life and I am behind him 110%.
Music:

Rage Against the Machine, Aretha Franklin, Weezer, still love Alanis Morresette, BOB MARLEY...........
Television:

I like Grey's, Lost, OZ, Big Love and of course ARMY WIVES... completely addicted!!!
Movies:

too many
Reading:

Clive Barker is amazing!
Occupation:

looks like I will be a homemaker at least for a while
MySpace URL:

http://www.myspace.com/armywife00001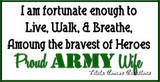 Total Posts
Total Posts

337
Posts Per Day

0.07
Visitor Messages
Total Messages

7
Most Recent Message

03-09-2009

02:03 AM
General Information
Last Activity

07-16-2009

01:21 PM
Join Date

05-27-2007
Referrals

0